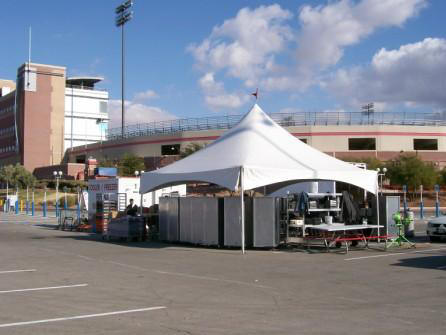 The Caterers Inc. is proud to provide a wide range of party tents and pop up canopies for rent in the vibrant Las Vegas area. Our selection includes three different sizes to suit the unique needs of every event.
Firstly, we offer the 10′ x 10′ tent, a compact yet versatile option that is perfect for intimate gatherings or small outdoor spaces. This tent provides sufficient shelter and can comfortably accommodate a small group of people, ensuring a cozy and enjoyable atmosphere for any occasion.
For slightly larger events, our 10′ x 12′ tent is an excellent choice. With a bit more space, this tent offers increased flexibility while still maintaining a manageable size. It is ideal for birthday parties, family reunions, or casual get-togethers where you want to strike a balance between space and intimacy.
For those seeking a more spacious and grand setting, our 10′ x 20′ tent is the perfect solution. This larger option can comfortably hold a considerable number of guests, making it suitable for weddings, corporate events, or any gathering that demands a touch of elegance and ample space.
However, it is important to note that in accordance with Clark County Nevada regulations, any tents exceeding 400 square feet require a fire permit. To ensure safety, these larger tents must also be equipped with fire extinguishers and erected at least 20 feet away from permanent structures. At The Caterers Inc., we prioritize safety above all else, and our team is well-versed in adhering to these regulations to guarantee a worry-free experience for our customers.
Whether you're planning an intimate gathering or a large-scale event, The Caterers Inc. has the perfect tent or pop up canopy to meet your specific requirements. Count on us to provide top-quality equipment, exceptional service, and a commitment to ensuring your event is a resounding success.
10′ x 10′ tent
10′ x 12′ tent
10′ x 20′ tent