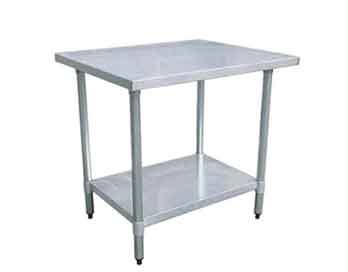 Whether you are organizing a small demonstration, hosting a weekend event, or planning a large convention, one thing remains constant – the importance of using stainless steel prep tables for food preparation. Regardless of whether you are an amateur or professional chef, these tables are essential for ensuring a hygienic and efficient cooking experience for both you and your guests.
At our establishment, we offer a diverse range of stainless steel prep tables to cater to your specific needs. Starting at a compact yet functional size of 2 feet deep by 3 feet wide, our tables provide ample space for chopping, slicing, and dicing ingredients. However, if you require a larger workspace, we also have tables available in various dimensions to accommodate your culinary requirements.
Why stainless steel, you may ask? Well, the answer lies in its exceptional properties that make it the ideal material for food preparation. First and foremost, stainless steel is incredibly durable, ensuring that your prep table will withstand the rigors of a bustling kitchen environment. Its resistance to corrosion, stains, and heat makes it a long-lasting investment that will serve you well for years to come.
Furthermore, stainless steel is incredibly easy to clean and maintain. Its smooth surface prevents the accumulation of dirt, grime, and bacteria, enabling you to maintain a high level of hygiene. This feature is particularly crucial when handling food for large gatherings where food safety is of paramount importance.
In addition to its practicality, stainless steel also exudes a sleek and professional aesthetic. Its polished surface not only adds a touch of elegance to your culinary workspace but also complements any kitchen décor seamlessly. Whether you are hosting an intimate gathering or a grand convention, our stainless steel prep tables will ensure your food preparation area looks as impressive as the delectable dishes you create.
So, whether you are a culinary enthusiast experimenting with new recipes or a seasoned chef showcasing your skills to a discerning audience, our 2′ x 3′ stainless steel food prep table is a perfect choice to elevate your cooking experience. However, if you require a larger workspace or have specific dimensions in mind, our extensive selection of prep tables guarantees that we have the right fit for you.
Contact us for more details and availability