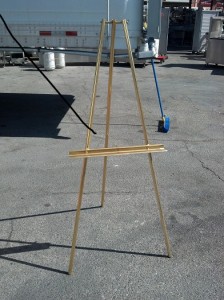 TCI Event Rentals, the leading provider of event equipment in the ever growing cities of Las Vegas and Henderson, NV, proudly offers a captivating brass easel for rent. This exquisite piece, adorned in a luxurious brass/gold color, stands tall at an impressive height of 60 inches, while boasting a width of 24 inches and a depth of 29 inches. With a shelf height of 31 inches, this brass easel presents a perfect display solution for your esteemed event.
Imbued with elegance and sophistication, our brass easel effortlessly combines functionality with aesthetic appeal. Its shimmering brass/gold color adds a touch of opulence to any setting, ensuring your event exudes an air of grandeur and refinement. Whether you are hosting a wedding, corporate gathering, art exhibition, or any special occasion, our brass easel is the ideal choice to showcase your most treasured items.
Crafted with meticulous attention to detail, this brass easel guarantees stability and durability. Its sturdy construction ensures that your valuable displays remain securely in place, allowing guests to admire them without worry. The generous shelf height of 31 inches ensures that even larger items can be accommodated, providing versatility and flexibility when it comes to arranging your exhibit.
At TCI Event Rentals, we understand that every event is unique, and our team of experts is dedicated to providing tailored solutions to meet your specific needs. Our brass easel is available for rent, allowing you to transform any venue into a captivating space that leaves a lasting impression on your guests. Whether you are aiming for a classic, vintage, or contemporary ambiance, the timeless charm of our brass easel will effortlessly enhance the overall aesthetic of your event.
Renting our brass easel is a hassle-free experience, as we take care of all the logistics for you. Our professional and friendly staff will deliver the easel to your desired location promptly, ensuring it is set up to perfection. Additionally, our team is always available to answer any questions or provide assistance throughout the duration of your rental.
So, if you are planning an event in the Las Vegas or Henderson, NV area and are in need of a stunning brass easel for rent, look no further than TCI Event Rentals. Contact us today to reserve this exceptional piece and elevate the visual impact of your event to new heights.