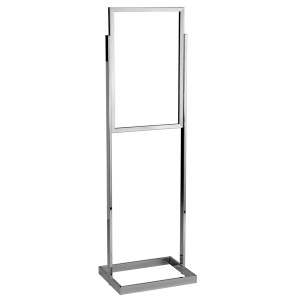 We are pleased to offer our exceptional vertical metal frame sign holders for rent in the vibrant cities of Las Vegas and Henderson, NV. These sign holders boast an attractive design that is sure to catch the attention of passersby.
With a generous sign display area of 22″ x 28″, you have ample space to showcase your message, advertisement, or announcement. The display area, measuring 15″ x 23½", provides a perfect canvas to make your content stand out and leave a lasting impression on your target audience.
Our sign holders are equipped with a sturdy metal base, ensuring stability and durability even in high-traffic areas. The base measures 56″ in height, allowing your signage to be prominently displayed at eye level, maximizing its visibility and impact.
Whether you need to promote a special event, highlight a sale, or direct customers to your business location, our vertical metal frame sign holders are the perfect solution. They are not only functional and practical but also visually appealing, complementing any surrounding environment.
Take advantage of our convenient display stand rental service to effortlessly elevate your marketing efforts. Our professional team is ready to assist you with the setup and installation of the sign holders, ensuring a hassle-free experience for you.
Contact us today to book your vertical metal frame sign holder rental, and let us help you make a statement in the bustling cities of Las Vegas and Henderson, NV.