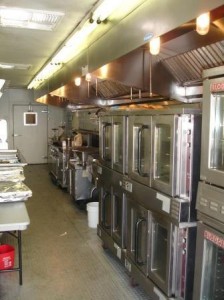 Our mobile kitchen trailers are perfect for a wide range of purposes, including large events, emergency relief efforts, and renovation projects. These kitchens are housed within semi trailers that can be easily transported and converted into fully functional restaurant-style kitchens. Equipped with top-of-the-line commercial grade appliances and prep areas, our mobile kitchens allow you to efficiently prepare food for large gatherings and easily handle the clean up process.
The great thing about our mobile kitchens is that they can be customized to meet the specific needs of your chef or staff, ensuring that your event is catered to perfection. Whether you require certain types of equipment or specialized setups, we can configure the mobile kitchen to suit your requirements.
Our mobile kitchen rental service is available within a 500+ mile radius of Las Vegas, which includes areas such as Southern California, Phoenix, and Salt Lake City. To provide maximum convenience and accessibility, our rental consists of three 48′ semi trailers and one flatbed dock trailer. The flatbed dock trailer is used to provide easy access to the three service trailers.
Each enclosed unit is equipped with rooftop heating and a swamp cooler cooling system, ensuring a comfortable working environment regardless of the weather conditions. Additionally, each unit is well-lit with shielded fluorescent light fixtures, providing ample lighting for food preparation and cooking.
To ensure proper sanitation and compliance with regulations, our trailers are equipped with grease traps as necessary. This helps to keep the kitchen clean and prevents any potential issues with plumbing or the environment.
Now, let's take a closer look at each trailer and its specific features:
TRAILER 1: The Chefs trailer or Hot trailer is equipped with a 30′ hood (360″) exhaust system, complete with a fire suppression system. This trailer also features a quick connect fuel system, allowing for the use of either propane or natural gas. A variety of kitchen equipment is available, including a tilt braiser, a 2-basket fryer, a 40 qt kettle, a double stack oven, a 6-burner stove, and a 36″ grill. The hot trailer also includes a 7′ x 12′ walk-in cooler, as well as a 2-compartment sink with a hot water heater. Stainless steel prep tables and shelving are also provided.
TRAILER 2: The Dishwasher Trailer is equipped with a 7′ x 12′ walk-in cooler. This unit is designed specifically for dishwashing, featuring a three-compartment sink, a large capacity dishwasher, and an independent hot water heater.
TRAILER 3: The Pantry trailer offers additional space with a 7′ x 12′ office area that includes a desk and shelving. This trailer also features a porter/mop station with a hot water heater, as well as dry storage shelving units. Additional reach-in coolers and freezers can be provided upon request for this unit.
Renting our mobile kitchens allows you to have a fully functional and efficient kitchen wherever you need it. Whether you're organizing a large event, responding to an emergency situation, or undertaking a renovation project, our mobile kitchens provide the perfect solution. Contact us today to inquire about our rental services and discuss your specific needs.
Mobile Kitchen Requirements:
10 day notice so the mobile kitchens can be prepared and configured for your use
Units require 220 single phase / minimum of 60 amp service
Units are complete with plumbing and require access to proper sewers and two 3/4″ water supply lines. (optional bladder bags and water tanks are available if sewer and water are not accessible)
Delivery, set up and tear down charges apply. Mobile kitchens are available for a weekend event or can be leased on a monthly basis.
These units have served in many capacities. They were first constructed and used to feed the National Guard for 16 months following the Katrina disaster in Louisiana. At the peak we were serving 8000 meals daily from these units.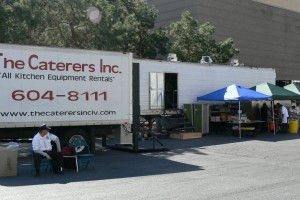 The local Carpenters union has also utilized these mobile kitchen trailers for 18 months while they built a kitchen at their training facility. The local football stadium uses the hot trailer during special events. The trailers have also been utilized by the Ritz Carlton at Lake Las Vegas during their Kosher Show.
As you can see, a mobile kitchen offers great convenience if you are hosting and outdoor event and can mean the difference in fresh warm food or cold food being served to your customers and guest. If your kitchen is inside or nowhere near the guest area, a mobile kitchen is the smart choice.
Contact The Caterers Inc now to reserve a mobile kitchen trailer and dish washing trailer for your Las Vegas event.