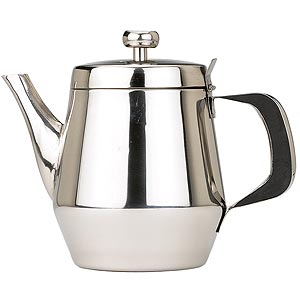 We are proud to offer our exceptional stainless steel 1 qt teapots for rent, specifically designed to meet the needs of restaurants, banquets, weddings, and conventions in the vibrant cities of Las Vegas and Henderson. These teapots not only exhibit a striking appearance but also boast a range of features that make them the perfect choice for any occasion.
Crafted from high-quality stainless steel, our teapots showcase a stunning mirrored finish, adding a touch of elegance to any table setting. Whether you are serving hot or cold tea, coffee, or refreshing soft drinks, these teapots are equipped to maintain the desired temperature with utmost efficiency.
With a generous capacity of 32 ounces, our teapots ensure ample servings for your guests, making them ideal for both intimate gatherings and larger events. Made from commercial-grade materials, they guarantee exceptional durability and reliability, even in the busiest of environments.
Renting our stainless 1 qt teapots provides a practical and cost-effective solution for your beverage service needs. Their sleek design and versatility make them the perfect addition to any professional setting, elevating the overall experience of your patrons.
Choose our stainless 1 qt teapots for rent and experience the perfect balance of functionality, style, and convenience. Transform your event into an unforgettable one, as these teapots effortlessly enhance the beverage service, leaving a lasting impression on your guests.