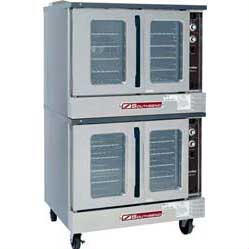 Are you in need of a reliable and efficient cooking solution for your upcoming convention or event in the vibrant city of Las Vegas? Look no further! We are thrilled to offer the opportunity to rent our top-of-the-line Portable Commercial Double Stack Convection Ovens, specifically designed to meet the unique demands of the hospitality industry.
Our ovens provide exceptional cooking performance while ensuring the utmost convenience and portability for your event. With their double stack feature, you'll have the luxury of preparing an array of delectable dishes simultaneously, catering to the diverse tastes and preferences of your attendees.
These ovens provide even heat distribution, resulting in perfectly cooked and mouthwatering meals every time. Whether you're planning to bake, roast, or broil, our ovens will surpass your expectations, delivering consistent and high-quality results that will leave your guests raving.
We understand the importance of flexibility and ease when it comes to event planning. That's why our Portable Commercial Double Stack Convection Ovens are designed with mobility in mind. They are compact and lightweight, allowing for effortless transportation and setup, saving you valuable time and effort. No matter the size or location of your venue, our ovens will seamlessly fit into your setup, ensuring a smooth and hassle-free cooking experience.
So, whether you're hosting a convention, conference, trade show, or any other event in the captivating city of Las Vegas, our Portable Commercial Double Stack Convection Ovens are the ideal solution to elevate your culinary experience. Contact us today to discuss your requirements and secure your rental. Get ready to impress your guests with tantalizing flavors and exceptional cooking results that will make your event truly unforgettable!