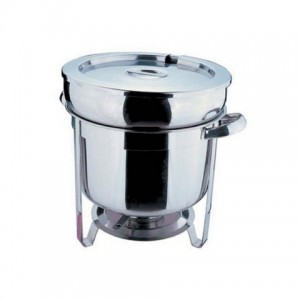 TCI has dozens of commercial soup tureens available to rent for your events in and around Las Vegas.
Commercial soup tureens are designed for use in commercial food service settings such as restaurants, banquet halls and hosted and catered events. They are usually made of durable, high-quality materials such as stainless steel, and are designed to withstand the demands of daily use in a busy commercial kitchen.
Commercial soup tureens come in a range of sizes and styles, from small, single-serving tureens to large, multi-gallon tureens that can hold enough soup to feed a large crowd. They are typically designed to keep soup hot for extended periods of time while maintaining a consistent serving temperature.
In addition to serving soup, commercial soup tureens may also be used to hold and serve other hot dishes such as chili, stew, and curry. They are an essential piece of equipment in many commercial kitchens, allowing chefs and cooks to efficiently and safely serve large quantities of hot, delicious soup to their customers.
Contact us today to see what sizes and quantities we have available for your rental dates.