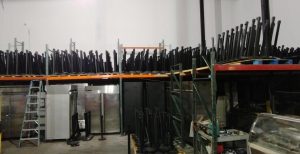 Are you in search of stanchions for rent in your area? Look no further! TCI is the ultimate destination for all your stanchion rental needs, conveniently located in Las Vegas. With a staggering inventory of over 2000 sleek and reliable black retractable stanchions, we take pride in being the leading provider in the industry.
At TCI, we understand the importance of maintaining order and crowd control at events. Our retractable stanchions offer a temporary yet effective barrier solution that keeps the masses organized, ultimately enhancing the security of your event. Designed in a sleek black color, our stanchions stand at an approximate height of 38 inches, ensuring their visibility and effectiveness.
One of the key features of our retractable stanchions is their adjustable belt length, which can extend from 1 foot to an impressive 8 feet. This versatility allows you to customize the barrier according to your specific needs and space requirements. Whether you need to create separate lines or block off restricted areas, our stanchions offer the flexibility to cater to your event's unique demands.
When placing an order for stanchions, it is essential to consider the starting point of your crowd control setup. For instance, if you intend to have a single controlled line spanning 100 feet along a wall, it is recommended to include 15 stanchions in your order. To assist you in planning and visualizing your layout, we recommend creating a map and marking a dot for each stanchion. By doing the math and carefully calculating your stanchion requirements, you can ensure a seamless and efficient crowd management system.
Trust TCI for all your stanchion rental needs in Las Vegas. With our extensive inventory, reliable equipment, and commitment to customer satisfaction, we guarantee a stress-free and successful event experience. Contact us today and let us help you keep the masses in line with our top-notch retractable stanchions.
NEED MORE CONTROL?
We have turnstiles for rent to help slow the flow of the crowd entering your event.
Click here for velvet post and rope stanchion rental