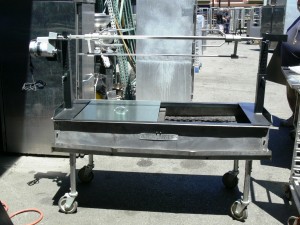 A summer time favorite is roasting a pig on a spit. We have two pig roasters available when scheduled in advance. We have a propane tow behind BBQ and we have a Big Johns pig roaster that has a generous 125 lb capacity.
Our pig roasters are perfect for parties, weddings, and large events downtown, in remote locations or at the race track. They can easily roast a whole pig, and they come with everything you need to get started. We also offer a variety of accessories, such as meat thermometers and carving knives, so you can be sure that your pig roast is a success.
The Big John's model M-251B sits atop one of our Magicater commercial portable aluminum charcoal grills.
5'W x 2'D x 5'H (approx height)
Mobile unit net weight: approx 264 lbs
Cook Time: 125 lb pig cooks in 10 – 13 hours @ 6 RPM

Adjustable Height: Rotisserie/Spit can be raised or lowered in 1″ increments from 13 inches to 24 inches to control heat.

REQUIREMENTS: Charcoal or wood chips and 115 V power source required
The pig roaster isn't just for pigs and hogs, you can slow roast a goat, lamb,  a few turkeys or even venison.
Renting a pig roaster from TCI Event Rentals is easy. Simply contact for details and availability. We will deliver the roaster to your location and set it up for you. After the event, we will come back and pick up the roaster and clean it up for you.
We offer a variety of payment options, so you can find the one that works best for you.
Contact us today to learn more about our pig roaster rental services. We look forward to helping you make your next event a success!