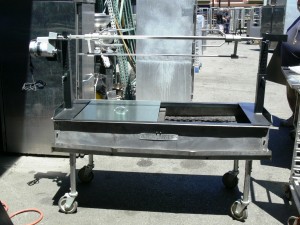 A summer time favorite is roasting a pig on a spit. We have two pig roasters available when scheduled in advance. We have a propane tow behind BBQ and we have a Big Johns pig roaster that has a generous 125 lb capacity.
The Big John's model M-251B sits atop one of our Magicater commercial portable aluminum charcoal grills.
5'W x 2'D x 5'H (approx height)
Mobile unit net weight: approx 264 lbs
Cook Time: 125 lb pig cooks in 10 – 13 hours @ 6 RPM

Adjustable Height: Rotisserie/Spit can be raised or lowered in 1″ increments from 13 inches to 24 inches to control heat.

REQUIREMENTS: Charcoal or wood chips and 115 V power source required
WE DELIVER
The pig roaster isn't just for pigs and hogs, you can slow roast a goat, lamb,  a few turkeys or even venison.