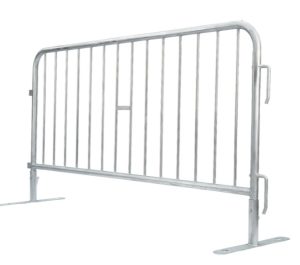 TCI is a leading provider of event barricade rentals in the Las Vegas area and southern Nevada. Our top-notch service caters to the needs of various events, ensuring optimal crowd control and safety.
Our heavy-duty pedestrian event barricades are designed to withstand the demands of any event. These barricades boast non-obtrusive flat feet, making them ideal for use on flat surfaces. With their sturdy construction and robust design, they guarantee the utmost security and stability for your event attendees.
Here are the specifications of our pedestrian event barricades:
– Length: 7.5 feet
– Type: Heavy Duty Crowd Control Barricade
– Coating: Hot Dipped Galvanized (silver/gray)
– Weight: 55 pounds each
– Dimensions: 42 inches in height and 92 inches in width
– Additional Feature: Interlocking mechanism for seamless barricade connections
To ensure we provide you with an accurate quote, we kindly request some details from you. Please provide the following information:
Distance to be covered: Please specify the length in feet that you require barricades for. This will help us determine the quantity needed for your event.
Layout map: We highly recommend creating a map of your event layout to ensure we can strategically place the barricades for maximum efficiency and safety.
Event address and drop-off location: Kindly provide us with the destination address of your event and the exact drop-off location. This will assist us in planning the logistics of delivering the barricades to the right place.
Drop-off and pick-up dates and times: Please let us know the date and time you require the barricades to be dropped off at your event location. Additionally, specify the date and time for the barricades to be picked up once your event concludes.
At TCI, we pride ourselves on our commitment to delivering exceptional service and high-quality equipment. Our team of professionals is dedicated to ensuring your event barricade rental experience is seamless and reliable. Contact us today to discuss your needs and receive a personalized quote for your event.