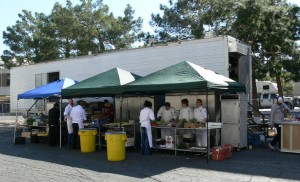 Las Vegas is a city that is known for its warm weather and sunny skies. However, these same conditions can pose challenges for food preparation at outdoor events. Here are some of the biggest challenges:
Climate: The desert climate in Las Vegas can make it difficult to keep food safe. Temperatures can soar above 110 degrees Fahrenheit, even in the shade. This can cause food to spoil quickly, especially if it is not properly refrigerated or protected from the sun.
Local regulations and requirements: Las Vegas has a number of local regulations and requirements that must be met when preparing food for outdoor events. These regulations can vary depending on the type of event and the location. For example, some events may require that food be cooked to a higher temperature or that it be held at a cooler temperature.
Availability of equipment: Securing the necessary equipment for food preparation at an outdoor event can be challenging. In addition to the standard kitchen equipment, such as ovens, stoves, and refrigerators, food vendors may also need to rent tents, tables, chairs, and generators. Commercial kitchen equipment can be difficult to rent, especially during peak season.
Competition from other vendors: Las Vegas is a popular destination for outdoor events, which means that there is a lot of competition from other food vendors. This can make it difficult to get a contract for an event, and it can also drive down prices.
In addition to these challenges, food vendors must also be aware of the following risks:
Foodborne illness: Foodborne illness is a serious risk at any outdoor event, but it is especially dangerous in Las Vegas due to the hot weather. Vendors must take steps to prevent foodborne illness, such as cooking food to the proper temperature, using clean utensils, and keeping food cold.
Insect infestation: Insects, such as flies and ants, can be a major problem at outdoor events. Vendors must take steps to prevent insect infestation, such as using insect traps and covering food.
Weather damage: Las Vegas is known for its unpredictable weather. Vendors must be prepared for the possibility of rain, wind, or heat waves. This may mean having a backup plan in case of bad weather, or having equipment that can withstand extreme conditions.
Despite the challenges, food preparation for outdoor events in Las Vegas can be a successful and profitable business. By being aware of the risks and taking steps to mitigate them, food vendors can ensure that they provide safe and delicious food to their customers.
Here are some additional tips for food vendors who are planning to prepare food for outdoor events in Las Vegas:
Start planning early. It is important to book your event space and secure the necessary commercial kitchen and cooling equipment with TCI Event Rentals well in advance.
Work with a reputable event planner. An experienced event planner can help you navigate the local regulations and requirements, and they can also help you find the best vendors for your event.
Be prepared for the weather. Have a backup plan in case of bad weather, and make sure your equipment can withstand extreme conditions. Is a large event tent part of your backup plan?
Keep food safe. Cook food to the proper temperature, use clean utensils, and keep food cold.
Be aware of the risks of foodborne illness and insect infestation. Take steps to prevent these problems, such as using insect traps and covering food.
Stay hydrated. The heat in Las Vegas can be dangerous, so make sure you stay hydrated both during and after your event.
By following these tips, food vendors can help ensure that their events are safe and successful.