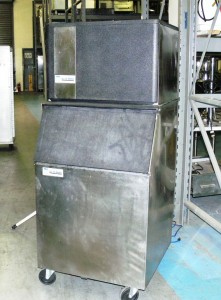 Why should you go through the hassle of purchasing and storing dozens of bags of ice for your upcoming party or event, when there is a much more convenient solution available? Renting a portable commercial-grade ice machine is the answer you've been looking for.
Whether you are hosting a small gathering or a grand-scale event, having an ice maker on hand can make a world of difference. This is especially true in the scorching heat of Las Vegas, where bags of ice tend to melt rapidly. By opting for a portable commercial-grade ice machine, you can ensure a steady supply of ice throughout the duration of your occasion.
With the capability to produce approximately 600 lbs of ice within a 24-hour period (equivalent to 25 lbs per hour), this ice machine is a true workhorse. Say goodbye to the constant need to refill coolers or make last-minute ice runs. This powerful machine will keep your drinks chilled, your cocktails refreshing, and your guests satisfied, without any interruption.
Renting a portable commercial-grade ice machine not only saves you the hassle of purchasing and transporting numerous bags of ice, but it also guarantees a consistent supply of ice throughout your event. No more worrying about running out of ice or dealing with the mess of melting bags. This efficient solution allows you to focus on enjoying your party and spending quality time with your guests.
So, why waste time and effort on traditional ice procurement methods when you can rely on the convenience and efficiency of a portable commercial-grade ice machine? Make your next event in Las Vegas a seamless and enjoyable experience by renting one today.
Maker – ICE0500HW1
115 volt
BIN – Ice-O-Matic B55PSA (556 lbs storage)
On casters, standard water hose connection required. Access to drain needed for inside use.
Required Space: