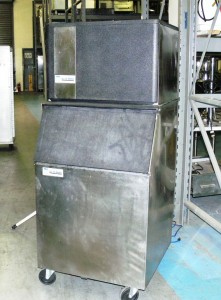 Why buy dozens of bags of ice for your party or event when you can rent an ice machine?  Ice makers are very convenient to have on hand for small parties and large vents, especially in the heat of Las Vegas where bags of ice melt quickly.
Produces approximately 600 lbs of ice in 24 hour (25 lbs per hour)
Maker – ICE0500HW1
115 volt
BIN – Ice-O-Matic B55PSA (556 lbs storage)
On casters, standard water hose connection required. Access to drain needed for inside use.
Required Space: