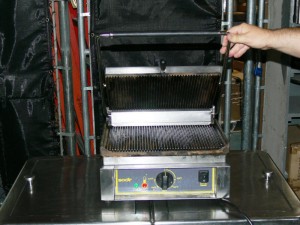 Who doesn't love the irresistible aroma and delectable taste of a freshly pressed sandwich straight off a sizzling Panini grill? Indulge in this culinary delight as we proudly offer Panini grill rentals in the vibrant and bustling Las Vegas valley. Whether you're hosting an outdoor soirée, organizing a lively party, or planning a memorable event, our Panini grills are the perfect addition to elevate your gathering to new heights of culinary excellence.
Picture the scene: the sun-kissed rays of the Las Vegas skyline embracing your festivity, laughter filling the air, and the tantalizing scent of grilled perfection wafting through the atmosphere. With our Panini grills at your disposal, you can effortlessly transform any mundane gathering into an unforgettable culinary experience.
Imagine the delight on your guests' faces as they bite into a golden-brown, perfectly toasted Panini, each bite bursting with a symphony of flavors. From classic combinations like ham and cheese to gourmet creations featuring succulent grilled vegetables and savory spreads, the possibilities are endless. Our Panini grills provide the ideal balance of heat and pressure, ensuring every sandwich is grilled to perfection, with a crispy exterior and a warm, melt-in-your-mouth interior.
Not only do our Panini grills elevate the taste sensations of your event, but they also add a touch of elegance and sophistication to your outdoor gatherings. Crafted with sleek and modern designs, our Panini grills seamlessly blend into any setting, creating a visually appealing focal point at your party or event. Your guests will undoubtedly be drawn to the sizzling grills, becoming part of the spectacle as they eagerly await their own personalized Panini creation.
Furthermore, our Panini grill rentals come with the convenience and ease of use that you desire. Our team of experienced professionals will ensure that the grills are set up and ready to go, allowing you to focus on other aspects of your event. We also provide guidance on the operation of the grills, ensuring that even the most novice chef can confidently create culinary masterpieces.
So why settle for ordinary when you can elevate your outdoor parties and events to extraordinary? Rent one of our Panini grills today and embark on a culinary journey that will tantalize taste buds and create lasting memories. Trust us to provide the key ingredient that will take your gathering to the next level – the irresistible charm of a freshly pressed Panini straight off the grill.
CONTACT US FOR MORE DETAILS & QUOTE
Check out this video for three delicious Panini recipes