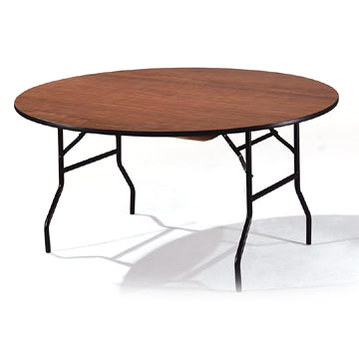 The Caterers Inc, a renowned catering service provider, takes immense pride in offering their exceptional round banquet table delivery service to cater to your large party or event in the vibrant Las Vegas metro area. We understand the significance of creating a memorable and elegant atmosphere for your formal gathering, and our round banquet tables are designed to enhance the ambiance while promoting engaging conversations among your esteemed guests.
Our round banquet tables are specifically curated to meet the highest standards of sophistication and functionality. With a generous diameter of 6 feet, these tables provide ample space for your guests to comfortably dine, socialize, and indulge in the festivities. The folding legs of our tables not only ensure easy transportation and setup but also guarantee hassle-free storage, allowing you to seamlessly accommodate any venue requirements or spatial limitations.
By opting for our round banquet tables, you are choosing an exquisite option that exudes elegance, refinement, and a touch of class. These tables serve as the perfect centerpiece for any formal event, elevating the overall aesthetic appeal of your gathering. As your guests gather around these captivating tables, they will be inspired to engage in lively conversations, fostering a warm and convivial atmosphere that will be remembered long after the event concludes.
Embrace the elegance and functionality of our round banquet tables, the epitome of sophistication and socialization. Contact The Caterers Inc today to book our exceptional delivery service and guarantee an unforgettable experience for your next large party or event in the Las Vegas metro area.
6′ round banquet tables seat up to 10 people
6′ and 8′ long banquet tables are here